Registration
Here you can find several functionalities related to registration
 Home > Student > Registration

1.Term Selection:
Select any Term from the drop down and click on Submit. This way you can see the history and previous Term details. By default, the latest term is selected and available.
 Home > Student  > Registration > Term Selection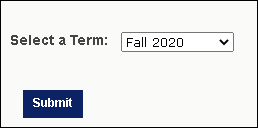 2. Active Registration:
Active registration can be viewed as well as Registration History, Schedule, Add or Drop Courses, View Holds.
Home > Student  > Registration > Active Registration

3.Registration History
Select any option from the list to see the details.
Home > Student > Registration >  Registration History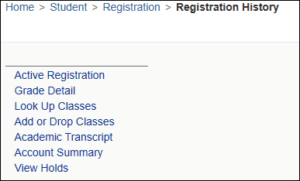 4.Add or Drop Classes
Students can add or drop courses in a term based on the registration dates.
To add a class, enter the Course Reference Number in the Add Classes section. To drop a class, use the options available in drop down from the list of the courses.
Please note: Your request will not be processed if it would cause credit hours to drop below the minimum allowed for a given term.
 Home > Student  > Registration > Add or Drop Classes