How to send an envelope through DocuSign?
Step 1: Add Document
 Login to your DocuSign account. Click on the drop-down menu on your home page, Click on Start
Click on 'Send an Envelope'.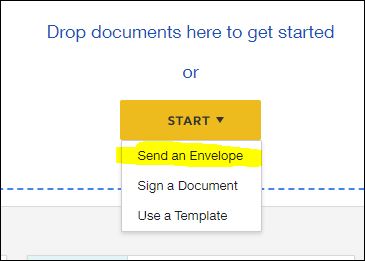 Note: Make sure the desired document is already prepared and saved in your device
Click on 'Upload' to upload the desired file from your device – you can use an existing template or upload from a cloud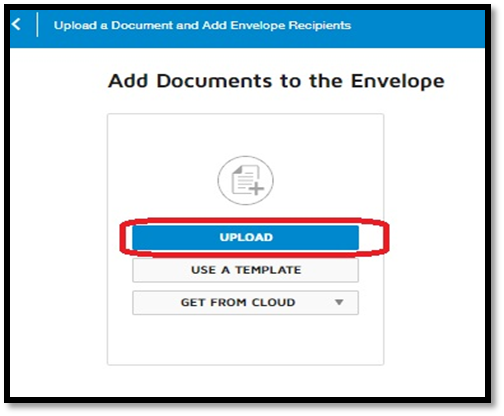 Browse for the file on your device's system, select the document and click on 'Open'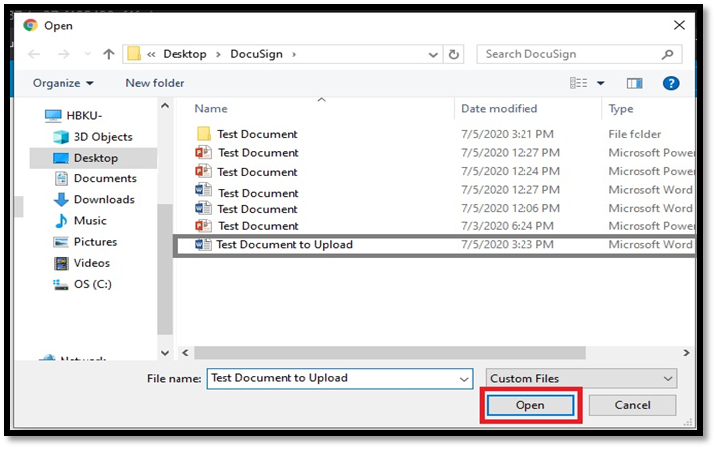 Your document will be added to the envelope accordingly.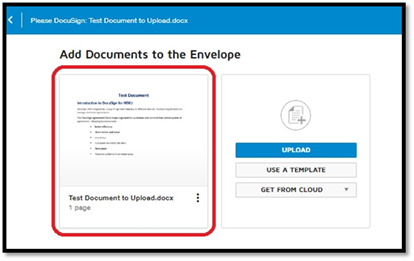 Step: 2 Add Recipients
While adding recipients, multiple steps need to be completed, including add recipients, assign ordering, choose action, add authentication access & private message, add custom message and advance options
Enter the recipient's full name and email address. Both these fields are mandatory.

To add more recipients, click on 'Add Recipient.' You can add any number of recipients; each recipient will be assigned a color

To assign ordering of the workflow, check the box before 'Set Signing Order'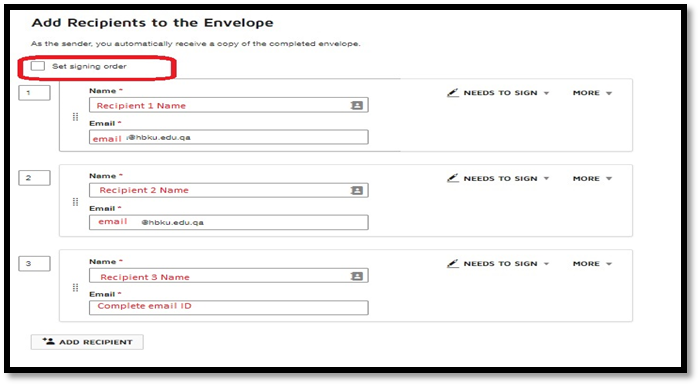 Enter the numbers as per the workflow.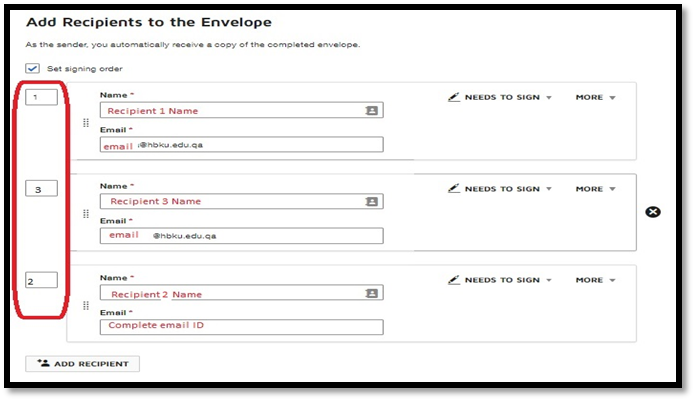 For each recipient, choose whatever action – Sign/Receive a Copy/View Only/Sign with Notary – is required by clicking on the drop-down beside each recipient's name.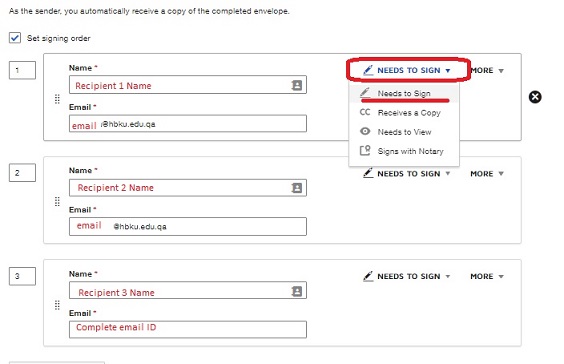 Optional: To add Authentication access or any private message to individual recipient click on 'More'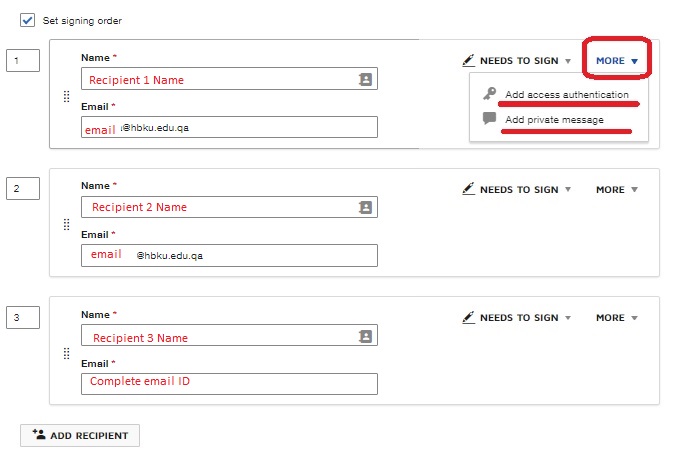 When you click on access code authorization and private message, the below tab spaces will be displayed – enter 'Access Code' and 'Private Message.'
Note: The access code should be shared to the recipient and it will be available in Envelope details for sender only.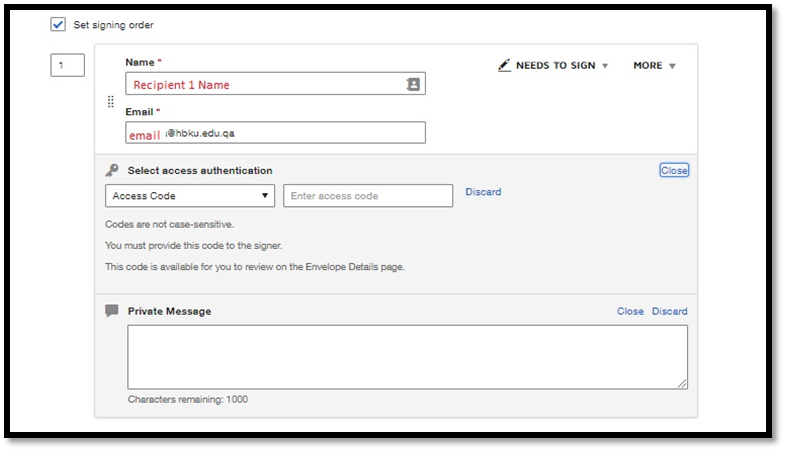 To add Custom Message to all recipients, type in the desired 'Email Subject' and 'Message for Recipients' in the given fields. This will be displayed in the email notification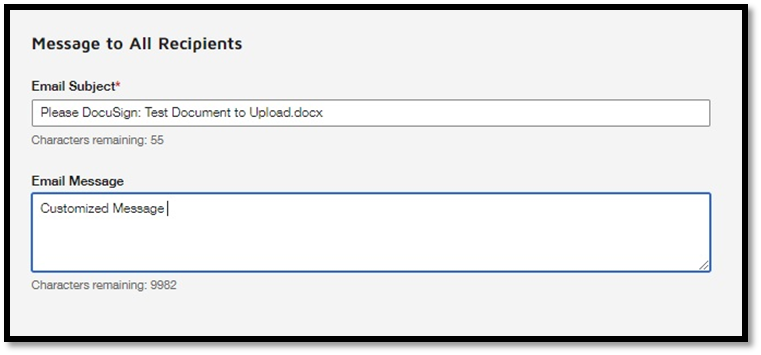 Advance Options: To set reminders, expiration, allowing the envelope to be accessible on any device, and comments. Users can perform multiple actions through the settings:

Beside Advanced Options, click on 'Edit'.

Check or Uncheck the different options that appear to you on the screen as per your needs and click on 'Save'.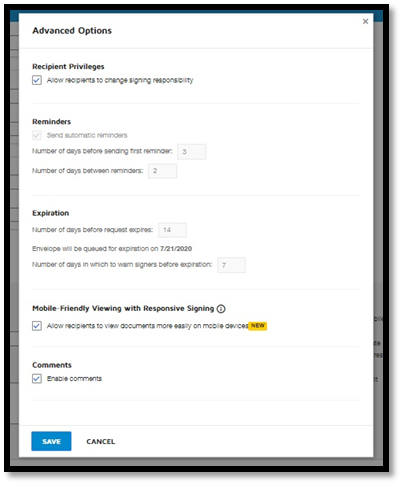 Once all the details are entered, click on 'Next' at the bottom right corner to proceed to add fields.

Step 3: Add Fields
Once a document and recipient are entered, a new page appears that includes fields that are required to be filled by the recipient, which can be added later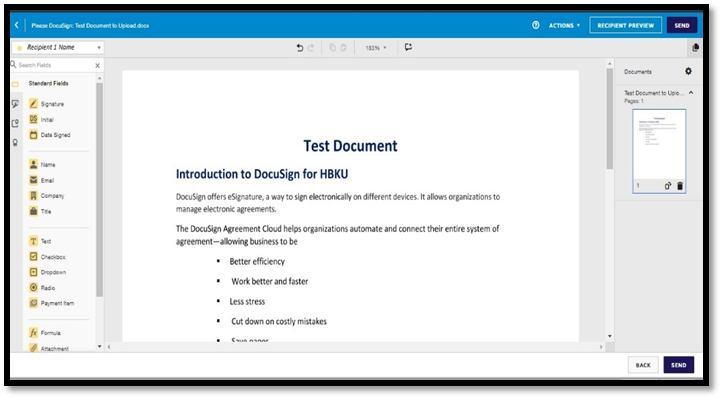 Select a recipient from the drop-down on the top left corner of the new page.
For each recipient, add the required fields by dragging them from the left-hand side panel and drop on the document where you want them to be placed.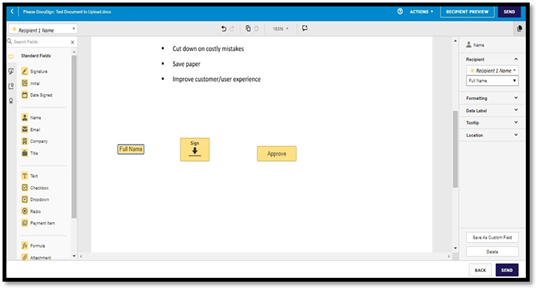 To align the fields added, select around the fields, and choose alignment style from the top right-hand corner of panel.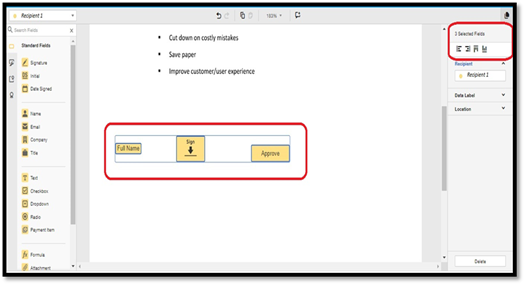 Step 4: Send Envelope
Add the required fields for each recipient, align them as necessary, and when ready to send, click on 'Send'.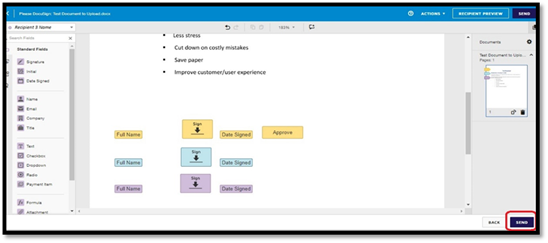 Once the document is sent, it can be found in the 'Sent Box' under 'Envelopes'.