1.The Course Navigation Menu is a series of links on the left-hand side of your screen that helps you and your students' access different course areas. The active link is highlighted with different colour text and a line indicator. This highlight helps you to quickly identify the feature area you are currently viewing in Canvas. Links that are hidden to students are indicated by a visibility icon. A link may be hidden to students because the feature area has no content or because the link is disabled. The Home Page is part of Course Navigation and displays the Course Home Page.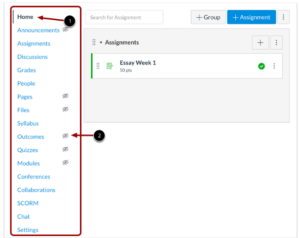 2. By default, new courses show links leading to the index pages for the following 14 areas: Announcements; Assignments; Discussions; Grades; People; Pages; Files; Syllabus; Outcomes; Quizzes; Modules; Conferences; Collaborations; Settings.

3.To open a feature area in Canvas, click on the name of the Course Navigation link.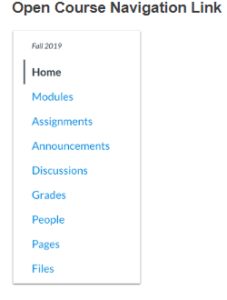 4. To expand or collapse the Course Navigation menu, click the Menu icon.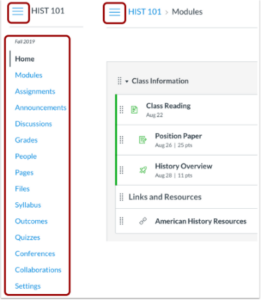 5. The Course Navigation menu will show the feature area as an active link.